Custom Extruded Rubber FDA Grade
Featured Product from National Rubber Corporation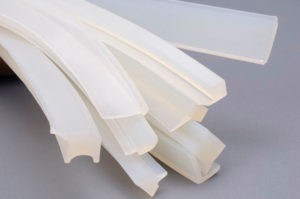 If your product calls for high quality , complex shapes, or fast turn-around, call the supplier with a National reputation: National Rubber Corporation.
Quick turn around and high quality are advantages of National Rubber. They use a proprietary Engineering Data Worksheet to document our quality from product to product, and lot to lot. It helps them to meet MilSpec, FDA, NSF, UL, AMS, ASTM, Lockheed specifications. All products are having Tolerances per RMA levels.
If your products demand custom mixing or secondary operations, National Rubber should be your first choice. They can blend elastomer compounds to any formulation for virtually any application in-house. They can also perform precision cutting, corner molding, butt , joint and endless splicing, punching, drilling , PSA application and T-joint fabrication.
LOOKING FOR CUSTOM RUBBER MOLDED PARTS, EXTRUSIONS AND DIE-CUT GASKETS?
National Rubber Corporation is an innovative premier parts manufacturer specializing in
engineered solutions for rubber molded parts, extrusions and gaskets, plus secondary
fabrication services. An ISO-certified company, we serve an ever-growing list of nationally Recognized customers in a variety of industries, from agriculture to food and beverage, from industrial to mining, to name only a few.
Whether you need a simple part or a multifaceted industrial or mechanical part, we will
work with you to design, prototype and manufacture custom parts to meet your exact
specifications. We have the ability to customize your products to accommodate any size, shape or applications. What's more, we've got the capacity, the manpower and the
determination to deliver quality products on time, every time.
At National Rubber, we are driven by customer requirements, and we use the tools of the quality process to meet or exceed these requirements.

View our >>>GALLERY
Products: