Custom Molded Rubber Components
Service Detail from National Rubber Corporation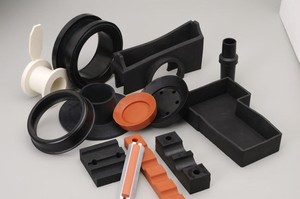 CUSTOM MOLDED PARTS
We work with an array of natural and synthetic compounds, including flame-retardant, foodsafe and high-temperature. The most common materials include silicone, Butyl, EPDM, fluoroelastomers, Neoprene, Nitril, SBR and Viton®. We can also mold directly to metal providing rubber-to-metal bonding.
National Rubber specializes in the molding of a wide range of elastomers from organic rubber and engineered synthetic compounds to silicone using a variety of efficient manufacturing processes including injection, transfer, compression and insert molding for custom products that conform to your design requirements. Compression molding is the most fundamental method of molding, also very cost-effective and widely used. It involves compressing pre-heated rubber into a mold cavity and holding it until cured.
Benefits of compression molding include:
Produces more complex parts
Low tooling costs
Good for high durometer parts
Rapid production
Fewer knit lines
Transfer molding also utilizes a press and a mold. However, the process involves forcing the material through small holes into the mold cavity.
Benefits of transfer molding include:
Used for more detailed designs
High production rates
Short production cycle
Reduction in product finishing time
Injection molding is the cost-effective method and is best suited for higher volumes. The process involves feeding the material into a press, where it is cooled or heated as per material compound and injected into the mold.
Benefits of injection molding include:
Consistency
Highest rate of production
Parts have little or no flash We can also blend elastomer compounds in-house to any formulation for virtually any application. Making rubber compounds inhouse means we have greater process control which leads to a greater parts consistency. It also means we can rapidly respond to most any changing requirements without incurring additional vendor costs.
Our custom molded rubber components are commonly used in the automobile, aerospace, appliance, healthcare, food and dairy processing, chemical processing, transportation, electronics and construction industries, among others. If you already have a design for your custom molded part, we can produce them for you. Or if you need assistance with your design, our staff can design most any part to your specifications.
WE WILL STRIVE TO BE THE PREMIER PARTS SUPPLIER FOR OUR VALUED CUSTOMERS BY MAKING THEIR LIVES EASIER IN THEIR DAYTO- DAY BUSINESS!
We offer you following reliable services:
Custom Extrusion
With our sophisticated control drive that allows us to maintain extremely close tolerances to RMA classifications, we can extrude a wide variety of products including seals, o-rings, weather stripping, insulations, gaskets, tubing and more. Our extruded rubber components are commonly used in the automobile, appliance, medical, and food and beverage industries, among others. Click here for more information.
Custom Molding
We employ compression, transfer, and injection molding to ensure a perfect match to customer specifications. We work with an array of natural and synthetic compounds, including flame-retardant, food-safe, and high temperature. Common materials include Butyl, EPDM, Fluoroelastomers, Neoprene, Nitrile, SBR, Silicone, Viton, Sponge, and more. Click here for more information.
Die - Cutting
Using a high precision cutter, we can cut the most unique sheets from a variety materials including EPDM, Viton® Nitrile, and Silicone to name a few. Our capabilities ensure we can meet your specification in terms of shape, thickness, color, material, and more. Click here for more information.
Secondary Fabrication
Our in-house capabilities include corner molding, gasket fabrication, punching, precision cutting, splicing, T-joint fabrication, 0° to 180° joint, windshield glass vacuum ring, and printing/stamping. Click here for more information.
Custom Mixing
Using variable speed, 50 horsepower mixers, we can mix even the most demanding engineered compounds. Each mixer is followed by three high horsepower, variable speed control mills that can provide continues batch blending. The result is total consistency from batch to batch. Click here for more information.
National Rubber Corporation
National Rubber Corporation is an innovative premier parts manufacturer specializing in engineered solutions for rubber molded parts, extrusions and gaskets, plus secondary fabrication services. An ISO-certified company, we serve an ever-growing list of nationally recognized customers in a variety of industries, from agriculture to food and beverage, from industrial to mining, to name only a few. Whether you need a simple part or a multifaceted industrial or mechanical part, we will work with you to design, prototype and manufacture custom parts to meet your exact specifications. We have the ability to customize your products to accommodate any size, shape or applications. What's more, we've got the capacity, the manpower and the determination to deliver quality products on time, every time. What originally started as a small facility in 1997, we've grown quickly and have recently moved into a new 68,000 sq. ft. facility right off of I-79 just outside of Pittsburgh, Pennsylvania.