Standard And Custom Designed Elastomers
Service Detail from National Rubber Corporation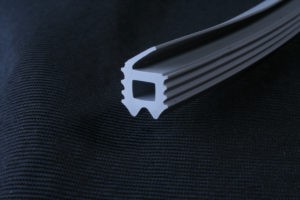 National Rubber produces profiles in all standard and custom designed elastomers and are used in a number of industrial and commercial applications. Our custom profiles are produced to your exact specifications from your print or sample.
Extruded parts are shaped by forcing softened raw materials through a die that is the shape of the desired part. Extrusion is perfect for a vast array of materials and a wide variety of product applications, including seals, custom-sized and large spliced O-rings, weather stripping insulation, gaskets, tubing and cord. National Rubber extruded parts meet FDA, ASTM, NSF, UL, AMS, high temperature and other standards, depending upon the specific application.
Whether your requirements for custom extruded parts are large or small, multi-dimensional or simple, our engineers will help in finding the solution to meet your needs. Our staff of experts enjoys the challenge of devising custom extruded solutions for the most exacting applications.
We work with the following elastomers:
Butyl
EPDM
Fluroelastomers
Neoprene
Natural Rubber
Nitrile
SBR
Silicone
Viton®
Now also available in Sponge
Our extruded rubber components are commonly used in the automobile, aerospace, appliance, healthcare, food and dairy processing, chemical processing, transportation, electronics and construction industries, among others.
Products:
Grommets
Misc.shape
Silicone sheet
Bumpers
"U" Channels
O-Ring
"C" Channels
We offer you following reliable services:
Custom Mixing
Using variable speed, 50 horsepower mixers, we can mix even the most demanding engineered compounds. Each mixer is followed by three high horsepower, variable speed control mills that can provide continues batch blending. The result is total consistency from batch to batch.
Consistency is also assured by our state-of-the-art control systems. These systems supply an extensive array of data that we can use to solve problems and enhance the performance of your compounds. In addition, drilled front rolls and precision temperature control capabilities enable us to handle silicone and other heat sensitive compounds.
Custom Extrusion
We have a sophisticated control drive that allows us to maintain extremely close tolerances to RMA classifications. We have the engineering capability and skill to extrude profiles of complex shapes of prescribed colors & Shore hardness as per the sample / Blue Print sketch provided by the customer. Developimg from Prototype to production of any elastomer is forte at National Rubber Corporation.
Give us a chance for prototype development and same wil be done at presrcibed duration.
Custom Molding
We work with the following elastomers:
Silicone
EPDM
Viton
Nitrile
Fluroelastomers
Natural Rubber
Neoprene
SBR
and More conductive and non conductive elastomers
Secondary Fabrication
Our in-house capabilities include:
Corner Molding
T-joint Fabrication
Gasket Fabrication
0° to 180° joint
Punching
Windshield Glass Vacuum Ring
Precision Cutting
Printing
Splicing
Hollow O- Rings of any custom size