Large 16800 kW E House DC Power Supply
Featured Product from Neeltran, Inc.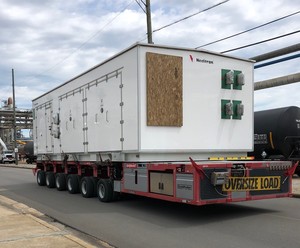 The evolution of a shipment; lift, load and shipping one of several large 16,800 kW 12 pulse E House Power Supplies with walk in capability and water cooled transformers and rectifiers. Saved client large 6 figure $$$ per installation by elminating the oil filled transformer and providing a green solution. Pictures are worth 1000 words.. lift, load, ship, arrive!
Saved client 6 figure $ per unit, no oil containment pit.. just a pad, retro fitted into existing bus system.
Complete walkin maintanance with visablity on transformer, rectifier, controls... entire unit.
Power ratings up to 34 kV primary and 50,000 kW all industries
Of course we have oil filled transformer solutions also.