Oil Filled Transformers to Run 24/7 Processes
Featured Product from Neeltran, Inc.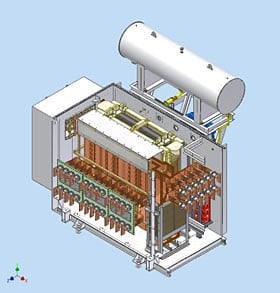 At Neeltran, we design and manufacture our own industrial transformers and rectifiers. Neeltran possesses multi-industry, engineering, and manufacturing experience that helps us to be flexible and design products that meet your specific technical and safety requirements.
Conservative Transformer design
Design to all types of environments
On Load Tap Changer available in all cases, including NLTC, the tap changer will have its own separate oil supply
Based on specifications we can conform to ANSI, IEC, IEEE,NEMA, CSA, BS, AS, UL, JS, CE etc…
Design to seismic zone and altitude
High Efficiency units with low operating temperatures
Multi-pulse and specialty circuit configurations available
Superior short circuit withstand
Latest safety features
Design to local environment, altitude and cooling conditions with all cooling system types available
Complete ANSI and/or IEC testing available
Able to design new units to fit into existing locations without pad or cell buss modifications
Neeltran, Inc is the premiere manufacturer of DC Power Systems and Transformers.
At Neeltran, we are one of the few companies in the world that designs and manufactures its own rectifier-transformers and rectifiers in the same facility. This unique capability allows for combined Full Current and Full Voltage factory testing of the transformer and rectifier in their actual configuration prior to shipment.. We have mulitple solutions for your power conversion needs. We would welcome an opportunity to work with you on your next project!