Turn-key Transformer Rectifier Systems
Featured Product from Neeltran, Inc.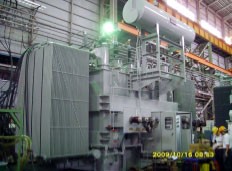 At Neeltran, we design and manufacture our own rectifier-transformers and rectifiers in the same facility. This allows us to provide a more complete line up to our clients. In order to further support our clients, we can provide a complete electrical system from the High voltage plant transformer up through the power for your process, including installation.
Power system includes; High Voltage Input Facility Transformer, Network, HV, MV & LV Circuit Breakers, Harmonic Filter, Current Transformer, Bushing Transformer, Switchyard, Stands, and Supports, etc...
Rectifier System includes; Transformer, Rectifier, DC Isolators, Cooling, Protection and accessories
Programmable Controls and Human Interface include; Customer Interface, Controls, Measurements, Protections, Indication, Regulation, Fault Diagnostics, Remote Trouble Shooting
Services include; Harmonic Studies, Magnetic Studies, Simulation, Relay Coordination, Training, Spares, Retrofit and Upgrades, Repair, Installation and Start-up