We Have Developed a Patented Drawn Arc Tank
Featured Product from Nelson Fastener Systems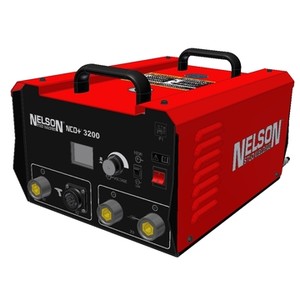 Nelson offers a complete line of portable and feed stud welding systems to meet even the most demanding of stud welding performance requirements. We also offer custom-designed systems for a variety of end use applications including fixed manual and automatic feed systems for high production environments.
Moreover, we have developed a patented drawn arc tack and TARC® welding system for use in high volume robotic welding applications.
Our full range of systems include portable equipment for electric arc, capacitor discharge and gas arc or short cycle stud welding processes. The Nelson Series 4000-6500, and NCD+ models offer feature rich equipment yet provide maximum portability and functionality in a compact space.
Under our Nelweld® brand, we offer a complete line of intelligent drawn arc welding systems using microprocessor based technology that has proven to be more reliable and repeatable than conventional solid state systems. The Nelweld® system can be custom designed to meet your specific requirements utilizing an extensive array of accessories and "add-on" components including our Nelware™ software, which can intelligently monitor, calibrate and troubleshoot your welding processes. Our Nelweld system can be custom tailored to your specific needs — meaning you don't pay for unwanted features or struggle with a system that does not have the exact performance features you need. Energy-efficient inverters save operating costs and the environment.
Although feature-rich, the simplicity of our Nelweld® design requires minimal operator training and interface to programme and manage your stud welding processes effectively. Using easy-to-read push buttons, operators can customise Nelweld® to monitor up to 30 different parameters and can preset up to six different welding application conditions.
Nelweld® Features and Benefits
Innovative User Interface
Microprocessor controls and monitoring
Built-in diagnostics for up to 30 parameters
Modular construction
Six preset programs
Patented two-wire gun circuitry
Cooler gun operation
Lock out features
To speak to someone immediately about Nelweld, please call 1.800.NEL-WELD (1.800.635.9353).
For more information about specific models and design specifications, please visit our Model Details section.
Custom-Designed High Production Systems
If you are a large volume OEM using stud welding in your manufacturing process, you need to talk to us! We can help you build the most cost-effective high-production welding system available. We have worked with large-volume OEM customers around the globe to build stud welding systems that are second to none.
Our production systems incorporate stud welding guns, electronic/pneumatic feed mechanisms and solid state power/control units that perform reliably on close tolerance and high-speed assembly lines. We have helped world-leading OEMs to build stud welding systems that not only solve often times complex manufacturing problems but also save valuable time and money. We can provide fixed or robotic multiple guns and systems with either manual or automotive feed systems. Moreover, we can help you design and build a pre-engineered modular production system from in stock components that gets you up and running in no time. Typically, design and assembly lead times for complex modular production systems can range from six to nine months – we can cut that time to only a few weeks and can reduce your system's cost by as much as 75 per cent!
We have also patented a revolutionary drawn arc tack welding procedure for high speed production using robotic welding that is unmatched in our industry. In drawn arc tack welding, components are attached prior to final welding, thus eliminating the old practice of manually positioning the components with guides or fixtures – meaning faster production times, tighter tolerances and lower instances of defects.
To learn more about how we can help you save money and improve your manufacturing process, talk to one of our experts by visiting our worldwide contacts section.