Critical Fasteners for HD Truck Engines
Product Announcement from Nelson Fastener Systems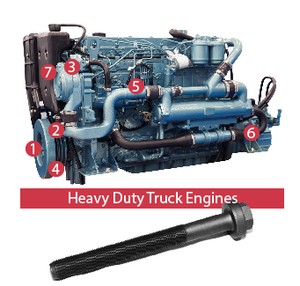 1. Flywheel bolts
2. Connecting rod bolts
3. Head bolts
4. Main bearing bolts
5. Exhaust manifold studs
6. Vibration damper bolts
7. Valve rocker studs
Ferry Cap™, a Nelson® Fastener Systems Company, specializes in the design and manufacture of cold and hot headed, high strength fasteners capable of meeting the demanding performance requirements of aerospace, diesel engine, power generation and industrial markets.
Ferry Cap has been providing its customers with the highest quality specialty fasteners for over 100 years. Ferry Cap, headquartered in Cleveland, Ohio is a leading fastener company with extensive experience and expertise in manufacturing the highest quality cold-headed and hot forged fasteners. A century of sucess in engineering, design, and quality innovations that make Ferry Cap a valued partner to the industries it serves.
Ferry Cap's core business is critical manufacturing/process expertise in special tolerances (undercut dimensions, turned surfaces, reduced body diameter, etc.) and metallurgical and dimensional characteristics.
It backs its technical expertise with advanced supply chain services and a number of customer-centric special support programs.
---