Neptune By-Pass & Filter Feeders
Product Announcement from Neptune Chemical Pump Co., Inc.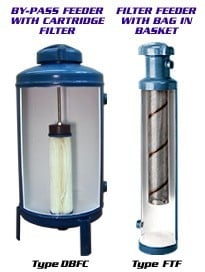 Neptune By-Pass Feeders are a convenient method of introducing treatment chemicals into closed circulating water systems. Neptune By-Pass Feeders are ideal for treating hot and chilled water circulating loops used in heating and air conditioning systems, process heating and cooling or large engine water jackets. Neptune offers two styles of By-Pass Feeders: A vertical style with dish bottom in and a vertical style with dish bottom out. Filters are available for system cleanup and monitoring.
The Neptune Filter Feeder combines chemical addition and high capacity filtering in one piece of equipment. It is a convenient way to introduce solid or liquid chemicals into hot or cold water closed circulating systems.
Eliminates need for separate By-Pass Feeder and filter
Filtration can be achieved at the same time as chemical addition
Extended neck with top inlet allows simple installation of filter bag and basket
Filter bags are available in 50, 20, 5 and 1 micron ratings. (Order separately.)
Filter bags are quickly and easily replaced
Features
Stainless steel dissolving basket holds and fully supports the filter bag inside (order bag separately)
Ring-top bags feature handles for easy removal.
"DB" type feeders have a full bottom drain and bolt on legs with anchor bolt holes.
Model FTF-5150HP features oversize 11⁄2"inlet and outlet connections. Can be used for system cleanup with high volume pumps where high flow rates are desired for fast clean-up or flush-out prior to start-up.
"CL" Models feature a welded base to allow bolting to the floor or other mounting surface.
Four holes for 3⁄8" bolts are provided on each Anchor Bolt Plate.
For full details and specifications, click the following link:
---