Neptune Polymaster™ for Hazardous Areas
Product Announcement from Neptune Chemical Pump Co., Inc.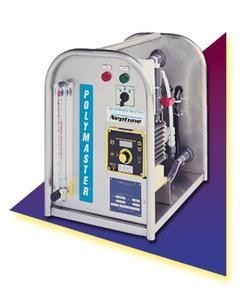 Neptune Polymaster - dilutes, mixes and thoroughly activates emulsion, dispersion and solution polymers including new high molecular weight products. Polymaster; provides state-of-the-art polymer activation and blending through the use of the patented, motorized Gatlin distribution head.
The Neptune Polymaster is simple, automatic and provides better mixing and a higher degree of activation than similar machines. Polymaster; is easy to operate and maintain. Mechanical mixing is required to ensure adequate blending and activation at the low flow rate applications typically found in hazardous areas.
Features:
Patented Gatlin Mixer
Models available from 1/3 to 20 gpm dilute solution at concentrations from 0.1 to 2.0%.
Easy access to all components.
REMOTE - OFF - LOCAL control and light.
Automatic shut-down and local alarm lights for loss of dilution water and motor overload.
Manual or automatic models. Automatic units adjust polymer pump flow rate by pacing the speed of the polymer pump to an external 4-20mA signal.
Power: 120 VAC, single phase; 1500 VA load.
For full details and specifications click the following link:
---