Millennium II Catalytic Bead Gas Detector
Product Announcement from Emerson/Rosemount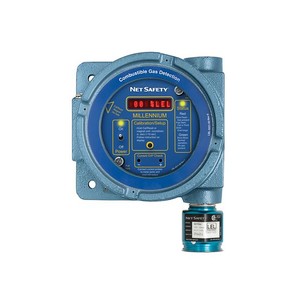 Net Safety's Millennium II Series Catalytic Bead gas sensors accurately monitor your site for the presence of combustible (LEL - flammable) gases. Net Safety's proprietary SensorGuard technology protects sensors from poisoning damage caused by extended exposure to high concentrations of combustible gas, ensuring long-life and continuous protection. Accurate and proven technology, requires only periodic calibration and maintenance, a market leading 5 year warranty included.
The Millennium II and Millennium II BASIC transmitters automatically recognize the pre-calibrated sensor and maintain an uninterrupted digital signal between them providing leading response times and wide sensor separation without diminishing performance.
The robust housing design offers easy access to the intuitive menu options and non-intrusive calibration commands in Class 1 Div 1 areas via the external magnet and innovative OLED graphic display. This OLED display is completely unique in the market, providing read-outs that are clearly visible in darkness or bright sun, blistering heat or at temperatures as low as -55°C. Add our optional intrinsically safe HART port adapter for access to the built-in data logging and advanced diagnostics, right at the transmitter via a hand-held communicator.
All this amounts to a detector which stands alone in it's simple installation, calibration, and rock solid day-to-day operation. Finally, a line of gas detectors engineered from the ground-up to withstand extreme conditions that also include all the features managers and operators in the field demand.
SMART Sensor Technology - The transmitter can be fitted with a wide range of toxic and/or combustible gas sensors. SMART (Self Monitoring Analysis and Reporting Technology) sensors are pre-calibrated and easily connect to the transmitter which instantly recognizes a newly fitted sensor and automatically uploads it's specific configuration profile.
Single or Multi-Channel SMART Controller - No need to purchase additional gas specific detectors. Use with 1 or 2 sensors and mix and match gas types with SMART controllers and sensors.
Global Certifications - The Millennium II is certified to FM, CSA, ANSI-UL/ISA, ATEX, INMETRO, and GOST-R safety, technical and performance standards and is SIL 2 Qualified.
Market-Leading Warranties - Infrared & Catalytic Bead Sensors - 5 Year Warranty | NE-MOS & Electrochemical Sensors - 2 Year Warranty | Transmitter and Electronics - 3 Year Warranty
Fast Response - Sensor and transmitter continuously communicate digitally, giving you the confidence of stable, accurate protection with market-leading response times and wide sensor separation.
Widest Voltage Range & Lowest Power Consumption Available - Net Safety advanced gas and flame detection solutions offer the lowest draw in the market - ideal for remote power sources, eliminates risk associated with common power drops and fluxuations, and overall cost savings associated with installation and energy consumption.
Bright OLED Display - The only detector on the market with low power, full graphic OLED display, that is easy to read in all ambient lighting conditions, and operates down to -55°C!
Analog, Relay, Modbus 485 RTU and HART - Enhanced communication allows the detector to work seamlessly with external safety equipment.
Easy To Use Menus - Whether you're disabling a sensor or simply setting display language such as English, French, Portuguese or Spanish, the full text menu instructions make the installation, operation and calibration simple. No manual necessary!
Event Logging - Calibration intervals, low/high gas alarms and faults are time and date stamped, then stored in non-volatile memory. Log up to 980 sequential events.
---