BioClosure® System Assemblies
Featured Product from NewAge Industries, Inc. / AdvantaPure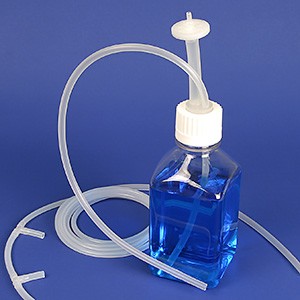 AdvantaPure offers its BioClosure container closures, made from AdvantaFlex® biopharmaceutical grade TPE, as standard, ready-to-use, closed systems. Called BioClosure System Assemblies, they feature a robust design with elastomeric seals against the containers and unobstructed fluid paths. Applications include aseptic sampling, cell growth, filling, process R&D and cold storage.

BioClosure System Assemblies are the ideal choice for many bioprocess applications and can be easily used with sterile tubing welders and sealers.

BioClosure System Assemblies include Single-Use AdvantaFlex fluid transfer tubing and molded container closures, plus filters and caps for media bottles, Erlenmeyer flasks and carboys. The assemblies, offered in standardized configurations, are intended to help customers save time and money on inventoried parts, assembly and cleaning validations.

Other key features of the closed system assemblies:
Meet ISO and USP standards including Class VI
Made in ISO 7 (Class 10,000) certified clean rooms
Easy connections – AdvantaFlex tubing is sterile weldable and heat sealable
AdvantaFlex is certified free of animal-derived ingredients
Documented quality control – lot traceable with identification on packaging
Full BPOG standardized extractables test results for AdvantaFlex closures and tubing are available on request
Container capacities range from 125 ml to 2 liters for media bottles, 1 and 2 liters for Erlenmeyer flasks, and 2.5 to 40 liters for carboys. Bottle and flask assemblies are provided gamma sterilized; cap assemblies for carboys, available in two or three port styles, are offered non-sterile or gamma sterilized. AdvantaPure also supplies carboys separately from their BioClosure cap assemblies.

BioClosure System Assemblies are available in platinum-cured, Class VI silicone in addition to AdvantaFlex TPE. Custom design and connector options are available upon request.

For more information on BioClosure System Assemblies, contact the AdvantaPure team at 145 James Way, Southampton, PA 18966; phone 888-755-4370 or 215-526-2151; fax 888-258-4293 or 215-526-2167; e-mail: sales@advantapure.com.