Braid Reinforced PU Hose for Pressure Applications
Featured Product from NewAge Industries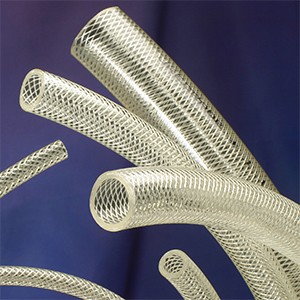 Urebrade® transparent braid reinforced polyurethane hose is well suited for tough applications involving repeated flexing, resistance to moisture and the affects of weather, and pressure.
Uses include:
Chemical transfer
Air lines
Pneumatic control systems
Low-pressure hydraulics
Robotics
Vacuum equipment
Granular transfer
Insulation sleeves
Oil and fuel supply*
Petroleum-based product transfer
Urebrade is reinforced with polyester braid material incorporated within its walls of polyurethane and is naturally transparent. It offers higher pressure capabilities than unreinforced tubing and smooth interior surfaces for unobstructed flow. Durable Urebrade resists moisture, fungi, oils, fuels, and greases, as well as abrasion, impact, vibration, and tearing. This combination of benefits gives Urebrade performance advantages over other plastic and rubber hose and extends its service life, resulting in overall lower costs. Another important feature is that the hose does not contain plasticizer, an ingredient used in some plastic materials to increase their flexibility. Plasticizer can leach out, causing hardening of the hose or contamination. Urebrade's flexibility is innate.
The ether-based polyurethane compound used to make Urebrade is made from non-toxic ingredients conforming to FDA standards and is listed by the National Sanitation Foundation (NSF 61) for use with potable water. It is stocked in sizes from 1/4" through 2" I.D, and offers a temperature range between -90°F and 175°F (-67.7°C to 79.4°C). Custom variations of Urebrade, such as thermal hose bonding, special sizes and colors, heat-formed shapes, and cut-to-length pieces, are available, along with NewAge® Industries' unreinforced polyurethane tubing, Superthane®, for less demanding applications.
*Due to additives in today's gasoline and petroleum products, field testing should be performed.