BrewSavor® Tubing for the Craft/Brew Industry
Featured Product from NewAge Industries, Inc. / AdvantaPure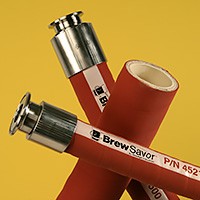 According to Joe Linquist, NewAge's dedicated Craft Brew Specialist, "It's an industry with very specific needs. For instance, the temperatures involved with different parts of the brewing process can range from near freezing to boiling. Heavy duty hose is used for transferring large volumes of fluid, but smaller-sized unreinforced tubing can be used for dispensing. The tubing materials are critical, too. No brewer wants to use a product that will give a bad taste or odor to his or her beer."
"BrewSavor tubing and hose products offer fluid transfer solutions for every step of the brewing process," said Linquist. "The products chosen for the BrewSavor line were specifically selected because of their flow properties, range of temperature usage, durability, suitability with alcoholic beverages, and because they won't impact the flavor of the finished product."
BrewSavor products address the various fluid transfer needs of the beer brewing process that often start with adding water. Mash then needs to be transferred for lautering (a separation process), then brewing where hops are added, then to a whirlpool vessel, next to a wort chiller, and later to a fermentation tank. Typically, beer is also aged and filtered before being transferred to its filling process, which may be kegs, cans, or bottles. In bars and restaurants, that final step is dispensing from a tap.
The BrewSavor line includes clear and translucent tubing and reinforced hose for fluid and gas transfer (CO2, nitrogen), chiller and blow-off lines, mash vessels, brew kettles, tanks, and dispensing, including tubing engineered to destroy beer-spoiling bacteria. The line also includes multi-layered hose reinforced with wire for pressure or full vacuum applications. Another multi-layered hose style is finishing its product development phase and will be introduced at the upcoming Craft Brewers Conference (CBC) taking place in Denver, Colorado, April 8-11.
In addition to CBC, BrewSavor products were exhibited at the recent International Beverage Dispensing Equipment Association (IBDEA) show in Orlando, Florida, and will be shown at the American Homebrewers Association's National Homebrewers Conference (Homebrew Con) in Providence, Rhode Island, June 27-29. While at Homebrew Con, Linquist will present "Draft Beer Dispensing for Homebrewers," an educational session about designing, assembling, and maintaining dispensing systems.
BrewSavor products are part of employee-owned NewAge Industries, a 65-year-old green company committed to continually minimizing environmental impact. NewAge's headquarters, where most BrewSavor products are manufactured, gets a good portion of its energy from its 1MW rooftop solar panel array installed in 2011. The company is a zero landfill organization and has taken other steps to reduce its energy usage, such as upgrading windows, lights and motors for efficiency; installing an insulated white "cool" roof; and adding screens to all dock doors to allow natural ventilation, without debris and insects entering the building, resulting in reduced use of exhaust fans on the roof. NewAge also has an onsite electric vehicle charging station and recently added on-demand generators to continue servicing customers during power outages.
Learn more about BrewSavor products and the brand's focus on the craft and home brew industries by visiting http://www.brewsavor.com