Clearflo® 70 Phthalate-Free PVC Tubing
Featured Product from NewAge Industries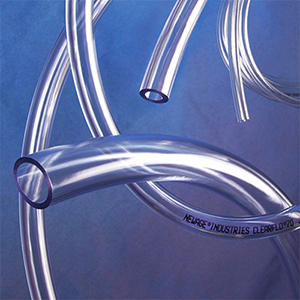 Clearflo® 70 PVC tubing is a clear, flexible, phthalate-free product from tubing and hose manufacturer NewAge Industries. Clearflo 70 tubing was developed in response to customers' interest in fluid transfer products that do not contain leachable phthalates such as DEHP (Di-2-ethylhexyl phthalate) or BPA (bisphenol A). Some studies indicate that phthalates – chemicals used to make certain plastic materials more flexible and easier to process – may have a negative health impact. Clearflo 70 is an ideal tubing solution for brewing and other beverage applications and for the transfer of fluids, gases and air in the medical device and health care markets.
Features of Clearflo 70 tubing include:
Phthalate, DEHP and BPA free
Raw materials meet California Proposition 65
Finished product meets USP Class VI requirements
Made from non-toxic ingredients conforming to FDA standards
Listed by the National Sanitation Foundation for food equipment materials - NSF-51
Glass-like clarity lets users see fluid flow
Mirror-smooth surfaces provide outstanding flow characteristics
Lightweight yet tough and abrasion resistant
As flexible as rubber
Handles a wide variety of chemicals, gases, and liquids
Raw material meets UL94 HB burn rating
REACH and RoHS compliant
NewAge stocks Clearflo 70 in fifty sizes ranging from 1/16" through 2" I.D.; larger sizes are available. The company also offers braid reinforced PVC hose for higher pressure usage, as well as fitting and clamps for attachment.