Co-Extruded Hytrel®-Lined PVC Tubing
Featured Product from NewAge Industries, Inc. / AdvantaPure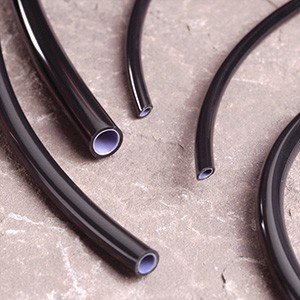 Hytrel-lined PVC tubing, designed to provide the flexibility and durability of PVC with the unique properties of Hytrel.
The tubing is useful in applications where different performance is needed for the inside and outside of the tube, such as Hytrel's oil resistance in a harsh environment where the durability of PVC is called for. Typical uses include air sampling, computer equipment, appliances and vending machines, lawn and garden equipment, propane gas delivery, and general fluid transfer.
Made from FDA-compliant ingredients; suitable for food contact
Does not contain plasticizers
Hytrel liner resists high temperatures and oils, making it ideal for hot beverage vending machine applications
Low permeability to refrigerant gases, hydrocarbons and moisture
Superior barrier and dielectric characteristics — well suited for welding applications
Odorless, tasteless, and inert
Good weathering properties — resists U.V. exposure, ozone, gases, moisture and temperatures
Low adherence of particulates — ideal for air sampling
Ethylene Oxide (EtO) sterilizable
Hytrel liner is REACH compliant
Hytrel-lined PVC tubing is manufactured from FDA-approved ingredients for use with food contact surfaces and is odorless, tasteless, and inert. It offers low permeability of refrigerant gases and hydrocarbons and resists ozone, moisture, and U.V. The Hytrel liner also resists chemical attack and the adherence of particulates.
The tubing's black PVC jacket provides flexibility along with shock, abrasion, and U.V. resistance. It helps insulate the tubing from electronic interference as well.
Hytrel-lined PVC tubing is manufactured to ensure a molecular bond between the two materials, making a virtually inseparable product. NewAge Industries stocks the tubing in three popular sizes: .170", 1/4", and 3/8" I.D. and also stocks a variety of fittings and clamps to mate with Hytrel-lined PVC.