Compression Fittings for Pure Fluid Applications
Featured Product from NewAge Industries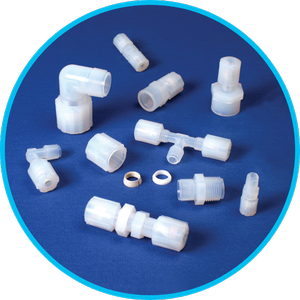 Pureloc® compression fittings are made from durable PFA fluoropolymer and work best with rigid and semi-rigid tubing made from materials like fluoropolymer, nylon, polyethylene, and polypropylene. Pureloc is a multi-part fitting that works by compressing, or squeezing, the O.D. of the tubing.
In general, compression fittings offer superior sealing characteristics over push-to-connect fittings but are more complicated to install. Each Pureloc fitting is supplied with installation instructions, and an instructional video is available on NewAge Industries' site at https://www.newageindustries.com/technical-resources/product-videos/ 
Pureloc fittings are stocked in the following styles: elbows, tees, connectors, and adapters. Sizes range from 1/8" through 3/4" tubing O.D.