Crush & Kink Resistant Food Grade PVC Suction Hose
Featured Product from NewAge Industries, Inc. / AdvantaPure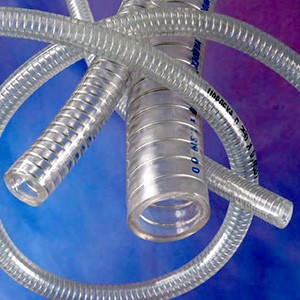 Vardex® combines the most desirable properties of PVC — resistance to corrosion and abrasion, clarity, rubber-like flexibility, and outstanding flow characteristics — with the strength of steel. The wire reinforcement allows the hose to resist kinking, crushing, and collapse, even at full vacuum (29.9 in./Hg.). Vardex offers a bend radius approximately four times the hose I.D., making it especially useful in applications where bends and turns are involved. The ingredients used in Vardex are non-toxic and conform to FDA standards.

With Vardex's proprietary construction, the spiral steel supporting wire is completely encased within the tubing and never contacts the inside or outside of the hose. Compared to similarly-sized rubber hose, Vardex is much lighter in weight. It provides a mirror-smooth inner surface for maximum flow.

Vardex is well stocked in nine sizes from 1/4" to 2" I.D. Fabricated hose assemblies with permanently crimped-on fittings are available, along with a variety of other fittings and clamps in both plastic and metal.