Hot Bond® - Thermally Bonded Tubing
Featured Product from NewAge Industries, Inc. / AdvantaPure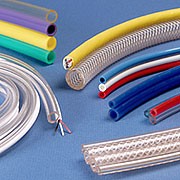 Now available from plastic tubing manufacturer NewAge Industries is Hot Bond thermally bonded tubing. The Hot Bond process joins lengths of reinforced and unreinforced tubing of similar material using heat, not leachable adhesives or solvents, for an orderly arrangement. This ribbon of tubing is used in both new and existing equipment in industries such as appliance, food service, pool and spa, paint application, robotics, processing, maintenance, medical, automotive, and others.
Hot Bond benefits include:
•Saving time and money on installation – bonded tubing eliminates multiple routing of lines
•Easier line traceability – quick troubleshooting saves labor expenses and time
•A professional appearance – a neat ribbon of tubing shows attention to detail and design while it eliminates confusing tangles of tubing
•Saving space – Hot Bond offers a more exact dimension than a bundle of tubing
Four types of Hot Bond allow for flexibility in design. Permanent bond offers maximum durability; permanently-bonded tubing cannot be separated without being cut. Strippable bond lets the user peel back a section of bonded tubing without the use of tools for convenient fitting attachments. Skip bond alternates sections of bonded tubing with unbonded tubing at specified intervals. Electric Hot Bond helps simplify electropneumatic connections by bonding electrical wire or light duty cable (customer supplied) to similar tubing materials—PVC-coated wire to PVC tubing for example—resulting in more manageable installation and servicing processes.
Reinforced and unreinforced tubing of the same plastic material can be bonded together even when varying sizes are involved (some limitations exist). Two or more tubes up to a finished width of 2-1/8" can be thermally bonded, and prototyping is easy. Post-bonding fabrication, such as coiling and assembly, is also available.
For more information on NewAge Industries' Hot Bond, contact the Fluid Transfer Specialists® at NewAge Industries, Inc., 145 James Way, Southampton, PA 18966; phone 800-50-NEWAGE (800-506-3924) or 215-526-2300; fax 800-837-1856 or 215-526-2190; e-mail: info@newageindustries.com.