Molded Single-Use Manifolds & Assemblies
Featured Product from NewAge Industries, Inc. / AdvantaPure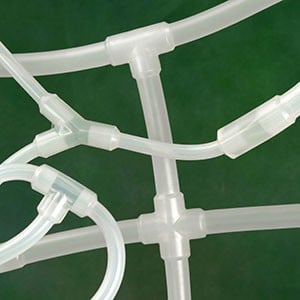 Single-use molded manifolds are custom made to meet your product sampling and storage needs in drug and vaccine production.

Manufactured from AdvantaFlex® biopharmaceutical grade TPE or platinum-cured Class VI silicone, molded manifolds eliminate the need for barbed fittings while providing a seamless transition from tubing to connection for a continuous, unrestricted flow. Designs range from simple molded sanitary ends to complex configurations with varying lengths of tubing and several molded connections.Eliminates leaks, entrapment, and contamination issues associated with barbed fittings.
Custom manufactured with Y's, T's, crosses, reducers, mini and
standard Tri-Clamps®, stoppers and other container closures, and tubing
Components are permanently molded into one, single-use manifold
Provides a smooth inner surface without seams or crevices for even, uninterrupted flow
One animal-derived-ingredient-free material contact surface throughout the assembly
Reduces end-user component inventory and assembly labor time and expense
Single use reduces the risk of cross contamination
Also reduces downtime by eliminating certain cleaning validation requirements
Molded and packaged in a Class 7 (Class 10,000) ISO-certified clean room
Documented lot traceable with identification on bags
Documented quality control
Complete validation package available upon request
Another important benefit of Single Use Molded Manifolds is the reduction of end-user assembly time and labor. Each assembly arrives ready for use—there's no need to attach multiple fittings to individual pieces of tubing, then secure those fittings with clamps or tie wraps. The assembly technicians at AdvantaPure can also attach filters, stoppers, bags, and other components.