Nylobrade® Phthalate Free, NSF Listed PVC Hose
Featured Product from NewAge Industries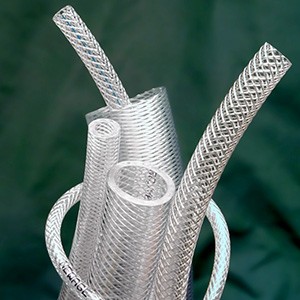 Phthalate Free Nylobrade® Clear PVC Hose from NewAge Industries is NSF-51 listed. This braid-reinforced PVC hose is made from non-toxic raw materials that conform to FDA and USP Class VI standards for use in food contact applications. Its NSF listing makes it a good choice for drinking water applications, those involving water at temperatures up to 60°C (140°F), and food processing application
Nylobrade offers a mirror-smooth interior surface, permitting outstanding flow, and higher pressure capabilities than unreinforced PVC tubing. The hose provides corrosion, abrasion, and chemical resistance, along with flexibility and a longer life than similar hoses made from rubber.
Manufactured at the company's headquarters in southeastern Pennsylvania, Nylobrade is well stocked in 12 sizes ranging from 1/8" through 2" I.D. Three options are available: thin or standard wall, plus a high pressure version.
Clear, Phthalate Free, Braid Reinforced PVC Hose - NSF Listed PVC Hose
Open mesh polyester braiding permanently encapsulated in walls of clear, flexible PVC tubing
Phthalate, DEHP and BPA free
Raw materials meet California Proposition 65
Listed by the National Sanitation Foundation for food equipment materials (NSF-51)
Non-toxic raw materials conform to USP Class VI and FDA standards
Offers much greater pressure capabilities than unreinforced PVC tubing
Mirror smooth interior permits outstanding flow characteristics
Crystal clear for full visual flow
Corrosion and abrasion resistant with flexibility similar to rubber but with much longer life
REACH and RoHS compliant
APPLICATIONS
Beverage Lines • Chemical Transfer • Coolant Lines • Filling Lines • Food Handling • Hydraulics • Instrumentation Lines • Material Handling • Oil & Fuel • Pneumatics • Potable Water • Spray Systems • Water & Fluid Feeds • and more...

For more information on Phthalate Free Nylobrade PVC hose, contact the Fluid Transfer Specialists® at NewAge Industries, Inc., 145 James Way, Southampton, PA 18966; phone 800-50-NEWAGE (800-506-3924) or 215-526-2300; fax 800-837-1856 or 215-526-2190; e-mail: info@newageindustries.com.