Nylon Tubing for Pneumatic and Fluid Transfer
Featured Product from NewAge Industries, Inc. / AdvantaPure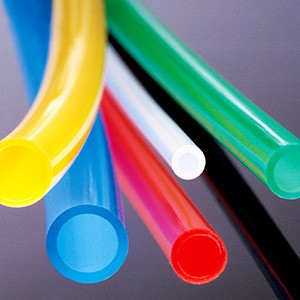 Nylotube® nylon tubing for pneumatics and fluid transfer is well stocked in sizes up to 1" O.D. Nylotube is lightweight with excellent bend radii and pressure ratings. It resists solvents, alkalies, oils, greases, petroleum products, fungi, and molds. The tubing also offers corrosion and abrasion resistance and can withstand repeated flexing without fatigue or fracture, making it well suited for the following applications.
Air Conditioning • Chemical Transfer • Compressed Air • Coolant Lines • Dispensing Equipment • Fuel & Oil • Grease Lines • Hydraulic Lines • Instrumentation • Laboratory Uses • Paint Supply • Refrigeration
NewAge's nylon-12 tubing, Nylotube, provides light weight combined with corrosion, abrasion, and chemical resistance. It withstands repeated flexing and is well suited for retractable coils. Nylotube also offers very low moisture absorption, plus excellent bend radii and pressure ratings.
Very low moisture absorption: 1.4% maximum (at 73°F)
Will not become brittle or swell because of water
Excellent resistance to flexural fatigue, tube vibration, and movement
Lightweight with excellent bend radii and pressure ratings
Resists crushing, abrasion, and cracking
Heat and light stabilized
Free of BPA, conflict minerals, phthalates and latex
REACH and RoHS compliant
Nylotube is stocked in two grades - flexible and semi-rigid. Inch sizes up to 1" O.D. and metric sizes up to 12mm O.D. are available. Six colors are offered, making line identification quick and easy.
NYLON-12
SEMI-RIGID
GRADE
FLEXIBLE
GRADE
Hardness, Shore D ±5
72
63
Tensile Strength, psi
7252
7252
Elongation at Break, %
200
200
Brittle Temp., °F
-94
-94
Max.Operating Temp., °F
230
158

NYLON-12 TUBING
CLICK HERE
to view a listing of
part numbers & specifications
**Values listed are typical for the material used in manufacture, except where noted, and are meant only as a guide to aid in design. Field testing should be performed to find the actual values for your application.

For more information on NewAge's Nylotube nylon-12 tubing, contact the Fluid Transfer Specialists® at NewAge Industries, Inc., 145 James Way, Southampton, PA 18966; phone 800-50-NEWAGE (800-506-3924) or 215-526-2300; fax 800-837-1856 or 215-526-2190; e-mail: info@newageindustries.com.