Plastic Push-to-Connect Fittings for Rigid Tubing
Featured Product from NewAge Industries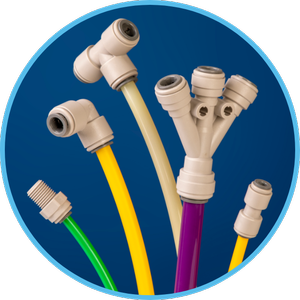 Newloc® push-to-connect fittings from NewAge® Industries are genuine "John Guest" brand fittings listed by the National Sanitation Foundation (NSF-51 for food equipment and NSF-61 for potable water). The lightweight fittings are made from FDA-sanctioned materials and offer quick and easy leak-proof connections.
Styles available include tees, elbows, straight connectors, and adapters. Collet covers and collet retainer clips prevent accidental disconnection, and tube supports are available for use with soft tubing materials like silicone.
Typical applications include systems for pneumatic control, food and beverage, chemicals, and drinking water. Learn more and watch the installation tips video.