Silicone Tubing for Purity & Wide Temp Range
Featured Product from NewAge Industries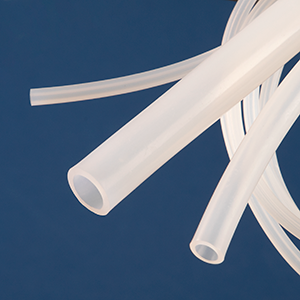 NewAge® Industries offers a broad line of tubing and hose products made from this versatile material, including platinum cured silcone tubing and silicone hose to ensure the least possible extractables. Our state-of-the-art, clean rooms are designed for manufacturing products particularly suited to medical and pharmaceutical applications, and our industrial grades offer exceptional performance at relatively lower costs.
Tubing for medical applications must meet a number of requirements. Among those are cleanliness, flexibility, non-toxicity, the ability to withstand sterilization, chemical compatibility and resistance, and the absence of certain plasticizers and other leachables.
Our silicone products offer a wide range of temperature use (-100°F to 500°F) and are clean room manufactured for purity. Peroxide cured silicone offers added durability, thanks to its post-production curing, while our platinum cured products provide smoother surfaces, higher purity, fewer leachables, better clarity and lower protein binding.
Silicone's resistance to extreme temperature variations has enabled its use in applications where a flexible tubing is needed to handle temperatures not possible with other plastics or rubbers. In fact, our engineering team has developed an Ultra-Low Temperature silicone tubing that remains flexible at temperatures as low as -169.6°F. This and other high purity silicone tubing and hose are available through our AdvantaPure® division.
A rubber-like thermoset material, silicone tubing and hose is extremely pliable and elastic, and it is not altered by the effects of weather. It generally exhibits inertness toward U.V., radiation, and ozone, making it an excellent choice for appliances and thermal sleeving.