Suprene® TPR (ThermoPlastic Rubber) Tubing
Featured Product from NewAge Industries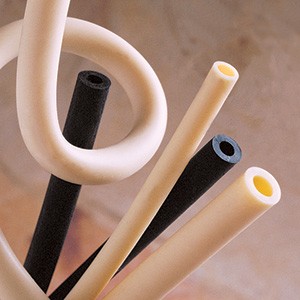 Suprene® thermoplastic rubber (TPR) tubing is manufactured by NewAge Industries in the U.S. in two grades: FDA and industrial. The tubing's applications include food and beverage transfer, flavor and additive dispensing, fluid transfer in appliances, chemical lines, pharmaceutical processing, agriculture and lawn equipment, ink transfer, and paint spray systems.

Suprene TPR tubing offers a number of advantages over other materials. The tubing is flexible and durable like rubber but typically lighter weight and more formable. It provides excellent resistance to flex fatigue and tearing and offers a wide range of temperature use (from -76°F to 275°F). As with many TPRs it exhibits good compression characteristics and may be used as peristaltic pump tubing.

NewAge manufactures Suprene in two styles to meet various application requirements. FDA grade is a natural tan color and suitable for clean needs such as food and beverage or cosmetics packaging and is autoclavable to ensure cleanliness.

Black-colored industrial grade SUPRENE offers good resistance to U.V. radiation, ozone, chemicals and other fluids. It will also handle applications where oil may splash onto the tubing and is well suited for outdoor use.


Made of first-quality, polypropylene-based, thermoplastic rubber (TPR)
Outstanding compression characteristics and toughness for peristaltic pump uses
Maintains good flexibility at low temperatures
RoHS compliant
Free of conflict minerals, BPA and animal-derived ingredients
Available in FDA or industrial grade
FDA grade is autoclavable
Industrial grade is well suited for outdoor use
FDA raw material complies with National Sanitation Foundation standards (NSF-51) and FDA 21 CFR 177.2600
FDA raw material meets UL94 HB burn rating
Suprene is made in the U.S. at NewAge's solar-powered facility and is stocked for same-day shipment in sizes ranging from 1/8" through 3/4" I.D. NewAge also stocks fittings and clamps to enable the attachment of Suprene to equipment and devices.