Tough Polyurethane Tubing for Air & Fluid Transfer
Featured Product from NewAge Industries, Inc. / AdvantaPure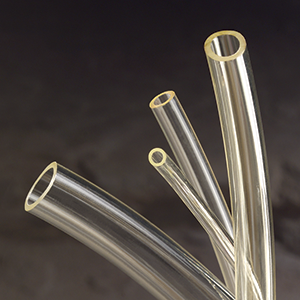 NewAge® Industries manufactures Superthane® unreinforced polyurethane tubing in two formulations: ester and ether. Both offer the traits polyurethane is known for, namely durability, natural flexibility, excellent weathering characteristics and good chemical resistance. Typical uses include air and liquid transfer, granular material and abrasive powder lines, cable jacketing, insulation sleeves, and petroleum product transfer.

Polyurethane, also known as PU or PUR, combines properties of both plastic and rubber. It blends abrasion and tear resistance, plus high tensile values, with nearly unlimited flexural abilities and low compression set. What sets polyurethane apart from other thermoplastics is its chemical resistance combined with its superior weatherability. NewAge's polyurethane tubing products:
Available in Ester or Ether formulations
Both formulations made from non-toxic raw materials conforming to FDA standards for use with wet and fatty food contact surfaces
Extremely resistant to weathering*, tearing, impact, radiation, and abrasion
Transparent, flexible, resilient, tough; resistant to oils, greases, and fuels**
Wide range of temperature resistance: -85°F to 185°F (ester)
Ether-based raw material is listed by the National Sanitation Foundation (NSF 61) for use with potable water
Ester-based raw material is free of animal derived components and REACH compliant
Free of DEHP, phthalates, BPA and conflict minerals
RoHS compliant
Can be heat sealed, coiled, fabricated, or bonded
Made in USA
*Hydrolytic Stability — For resistance to moisture and fungi, SUPERTHANE ether is recommended. (Ester polyurethane does not react well with water, prolonged humid conditions, or attack from fungi.) The raw material used in its manufacture is listed by the National Sanitation Foundation (NSF 61).

**Although polyurethane is commonly used in fuel applications, due to additives in today's gasoline and petroleum products, field testing should be performed.

NewAge makes its unreinforced polyurethane tubing called Superthane® in two formulations — ether and ester. The ether-based material handles water and humidity well, while the ester-based formula offers overall better petrochemical resistance. Both types are made from non-toxic, FDA-compliant materials, and the ether-based material is listed by the National Sanitation Foundation for use with potable water (NSF 61).

SUPERTHANE is much more resistant to pressure and vacuum applications than corresponding sizes of PVC or rubber.

For more information on polyurethane tubing, contact the Fluid Transfer Specialists® at NewAge Industries, Inc., 145 James Way, Southampton, PA 18966; phone 800-50-NEWAGE (800-506-3924) or 215-526-2300; fax 800-837-1856 or 215-526-2190; e-mail: info@newageindustries.com.