Braid Reinforced Tubing
Featured Product from New England Tubing Technologies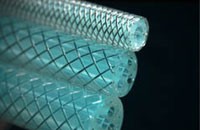 New England Tubing Technologies effectively utilizes its in-house technical staff and years of experience to assist our customers from product development to the finished product.
Materials range from metal such as copper and stainless steel, to high strength polymers. Our years of experience, technical staff and a wide array of materials enable us to reinforce your tubing in almost any way to meet your specific performance requirements. New England Tubing Technologies can reinforce most extruded tubing including single and multi-lumen, thin wall, micro-bore, co-extruded, unique profiles, micro-miniature and tubes
with multi-layers of dissimilar materials.
Our braiding capabilities are rooted around 8, 12, 16, 24, and 48 carrier braiders. Core diameters range from less than 2Fr (0.66mm) to greater than 1 inch (25.4 mm). Braid coverage and angle can be adjusted to achieve required strength qualities and characteristics—angles typically range from 20° to 70° and can provide up to 96% coverage. Our optional variable pick braiding provides varying levels of flexibility and kink resistance throughout the length of one tube.
Since we manufacture only custom products, the possibilities are endless. By using different braid designs/configurations and varying the density of the braid we can design varied flexibility over the length. This produces a tube that starts out stiff and gradually gets more and more flexible over its length. Tensile and elongation properties can be managed and manipulated by adding a longitudinal member which can increase tensile strength and reduce elongation. New England Tubing Technologies can vary the braid, among many other things, to achieve the desired characteristics and qualities that each and every customer is looking for. Pieces can also be cut to length or delivered in bulk depending on your needs. Contact us today to get started on your project!