Custom Medical Extruded Tubing
Featured Product from New England Tubing Technologies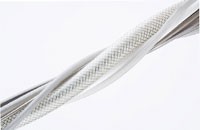 New England Tubing Technologies specializes in custom medical extrusions and tubing. With our comprehensive background in thermoplastic extrusion, we are able to work with our customers to provide them with the proper materials and design to meet their exact needs. At New England Tubing Technologies we are building upon the 40+ years of extrusion experience held by our parent company, New England Wire Technologies, supported by experienced in-house technical staff and a state of the art machine tool shop. Our on-site machine shop gives us the ability to design and fashion unique tooling needed for custom extrusions, resulting in quick turnaround times even on the most difficult extrusions. We commonly manufacture single-lumen, multi-lumen, multi-layer, and multi-material tubing all of which can be cut to exact lengths or delivered in bulk.
FAQs
A collection of some common questions we get from customers. If you need additional clarification, please contact us to discuss your specific requirements
Each order we process is custom designed and manufactured so please contact us or use our custom design form to let us know your requirements.
New England Tubing Technologies specializes in custom extrusions for the medical industries.
Our advanced extrusion expertise and wire processing capabilities enable us to provide top quality, custom braid reinforced tubing, thin wall tubing, fluoropolymer lined catheter shafts and hybrid tubing to meet customer exacting specification. New England Tubing Technologies' capabilities also include spiral reinforcement, scope braid, multi-layer tubing, exacting dimensional tolerances and braiding all types of round or flat wire.
Our expert engineering group utilizes the latest design tools including Fluid Dynamic Analysis software enabling for quick and accurate tooling designs. This paired with our extensive in-house machine tool shop, equipped with numerous CNC machining centers, allows for a quick turnaround on tooling for custom products. This enables New England Tubing Technologies to support our customer with short lead times.
New England Tubing Technologies constantly strives to provide innovative solutions to meet the ever changing needs of the medical industry. Through endless hours of research and development along with vast amounts of testing, New England Tubing Technologies has accumulated extensive data and information on the performance of various materials and constructions. This knowledge and experience gives us the ability to develop a custom design based on individual customer requirements. Customers can provide us with important characteristics (dimensions, torque, flexibility, etc.) and we can quickly and accurately develop a design to best fit their need.
New England Tubing Technologies is a wholly owned subsidiary of New England Wire Technologies which has been a manufacturer of custom wire and cable products for over 115 years. Through this direct relationship, New England Tubing Technologies has the expertise, knowledge and innovation it needs to continuously serve the medical device industry.
Click here to view and/or print our most current ISO 9001:2008 certificate.