Tubing - Post Processing & Value Added Services
Featured Product from New England Tubing Technologies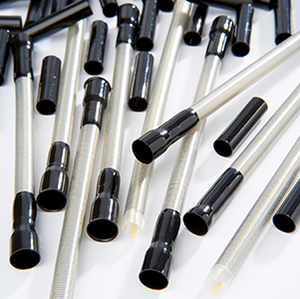 New England Tubing Technologies' primary goal is to serve our customer and help bring their highly specialized product to market. Our state-of-the-art lab and manufacturing facilities along with a superior engineering support team help us deliver short lead times and innovative solutions. In addition to a vast array of materials options, our in-house resources include tool making, machine and fabricating shops. Our commitment to maintaining and improving all of these resources enables us to support product development and prototype projects.
Parylene coating provides a lubricious, biocompatible, sterilization safe and autoclavable finish to your product while adding virtually nothing to the overall build of the cable. Parylene helps prevent against tangling, dragging on skin or clothing, and does not attract dust or debris. It also is resists heat, solvents, fungus and bacteria growth. The ends or specific sections of your tube or cable can be asked from the Parylene coating to allow for over molding or attaching things necessary for your finished device.
New England Tubing Technologies has the ability to accurately grind the outer diameter of reinforced tubes, providing a very precise diameter control and smoothing even the roughest extruded outer surface conditions. Our capabilities include thru-feed grinding where the entire length of catheter or tubing is finished on the grinder, and in-feed grinding that creates a smooth surface and decreases the diameter on one end or section of the tube.
New England Tubing Technologies uses a precisely controlled and calibrated annealing oven to straighten both reinforced and unreinforced tubing products up to 100 inches (254 cm) in length with temperatures up to 500°F (260°C).
New England Tubing Technologies has a variety of catheter and tube cutting methods to provide the proper cut and precise length. Our rotary cutters can provide an accurate cut with a standard deviation of 0.5% of length. Our programmable machines monitor and store process information, providing repeatable results.
We offer a variety of tipping & hubbing options. Please contact us for additional information.