Superconductor Cable
Featured Product from New England Wire Technologies Corporation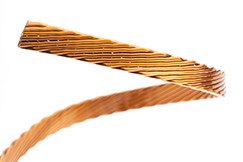 New England Wire Technologies has been providing cabling, insulating and other services to the superconducting community for over thirty-five years. Typically superconducting wire is supplied to New England Wire by the customer and from there we can offer a complete product solutions starting from wire drawing to cabling and insulating. Our expertise currently is being showcased in fusion experiments, particle accelerators, magnetic imaging systems, energy storage and laboratory magnets.
CABLING: Cabling operations include everything from applying twist to a single strand to multiple cabling operations resulting in very large cables with hundreds or even thousands of strands. The addition of a stainless steel, copper or brass spiral wrap tape can often be incorporated into the final cable design.
Typical constructions include:
Round Cables (7 strand and 19 strand)
Cables with Cooling Channels
Rutherford Cables
Keystone Rutherford Cables
Rutherford Cables with Cores
Cable-in-Conduit Geometries
INSULATING: New England Wire offers many insulation options to meet the needs of the superconductor community. Typical insulations include applying a tape wrap of material such as polyimide or fiberglass as well as braiding or spiral winding of specialized textiles or fiberglass. We also specialize in the extrusion of ETFE and other thermoplastics over a single wire or a formed cable.
COATINGS: New England Wire has years of expertience electroplating copper wire with tin and silver; we have also provided nickel plating for superconductor applications. Additionally, we have soldering capabilities for superconducting wire ranging from 50/50 tin-lead solder to 95/5 tin-silver solder.
HEAT TREATMENT: Large, calibrated walk-in ovens allow for the heat treatment of finished cable to oxidize the wire strand surface. This process can increase the resistance between strands within the same cable.
SOLUTIONS: For more than 115 years, New England Wire has been collaborating with customers all over the world to find unique solutions to their design challenges.
Call today to get started on your project.
New England Wire Technologies is a privately held, employee stock ownership company with a rich history dating back to 1898. Our Lisbon, NH facilities consist of over 385,000 square feet of manufacturing, quality/testing, tooling/machine fabrication and office space. We are an ISO9001:2008 registered company with more than 350 employees operating three shifts, five days a week.
New England Wire Technologies in Lisbon, NH is the primary and largest corporation in the MJM Holdings Group manufacturing all of the wire and cable sold under the New England Wire Technologies name. Other subsidiaries include New England Catheter (Lisbon, NH), Bay Associates Wire Technologies (Fremont, CA and Santa Ana, Mexico).
Whether working with customer supplied specification or designing to a unique requirement, New England Wire Technologies' design teams develop innovative, one-of-a-kind wire and cable solutions. On-site manufacturing processes include wire drawing, plating, braid, cabling and extrusion services. And, since all of our proprietary equipment and tooling is designed and built in-house, we have complete control while also offering quick modifications when needed. Through true vertical integration of manufacturing processes our customers' design-to-market curve is the shortest in the industry.