Custom hybrid cable solutions
Featured Product from New England Wire Technologies Corporation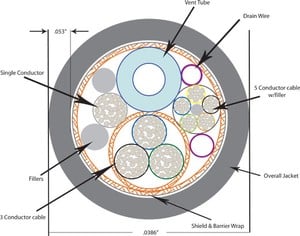 In many applications including audio/video, medical equipment, instrumentation and communications there are numerous interconnection demands for a single device. These could include power supply and grounding, signal, coax, twisted pair, strength members, vent tubes, individually shielded components, Litz wire, etc. New England Wire Technologies specializes in developing custom hybrid cable solutions to meet the wide range of requirements for these complex applications.
A hybrid cable is simply a cable in which multiple sizes or types of conductors or other components are incorporated into a single neat package. A custom hybrid cable can offer the wide range of functionality and the performance required for complex devices and applications without the clutter.
Some finished device manufacturers attempt to meet their variety of connection needs by bundling together many individual wires and components by hand. This approach allows for some design flexibility but unfortunately, the result is often disorganized, difficult to route and not very aesthetically pleasing. A single hybrid cable offers a much cleaner look than a bundle of individual wires and with overall shielding and jacketing in common a hybrid cable will typically provide reduced diameter as well. Also, cleaning and sterilization can be much more effective with a single round and smooth jacket rather than a rough bundle.
In other cases device manufacturers attempt to fit their device with an off-the-shelf product such as HDMI, USB or category cable. Regrettably the result is often the sacrifice of performance or design goals. The cable is an essential component of a high quality device so why use a cable that may not provide the appearance, dimensions, flexibility, flex life, or other aspects that you would ideally want your device to offer. With New England Wire's custom design support and manufacturing a hybrid cable can be tailored to the specific requirements of any application.
New England Wire Technologies will work with you to develop a solution that combines the numerous interconnection requirements for your device into a single easy to route hybrid cable.
New England Wire Technologies is a privately held, employee stock ownership company with a rich history dating back to 1898. Our Lisbon, NH facilities consist of over 385,000 square feet of manufacturing, quality/testing, tooling/machine fabrication and office space. We are an ISO9001:2008 registered company with more than 350 employees operating three shifts, five days a week.
New England Wire Technologies in Lisbon, NH is the primary and largest corporation in the MJM Holdings Group manufacturing all of the wire and cable sold under the New England Wire Technologies name. Other subsidiaries include New England Catheter (Lisbon, NH), Bay Associates Wire Technologies (Fremont, CA and Santa Ana, Mexico).
Whether working with customer supplied specification or designing to a unique requirement, New England Wire Technologies' design teams develop innovative, one-of-a-kind wire and cable solutions. On-site manufacturing processes include wire drawing, plating, braid, cabling and extrusion services. And, since all of our proprietary equipment and tooling is designed and built in-house, we have complete control while also offering quick modifications when needed. Through true vertical integration of manufacturing processes our customers' design-to-market curve is the shortest in the industry.