Litz Wire for Improved Efficiency
Product Announcement from New England Wire Technologies Corporation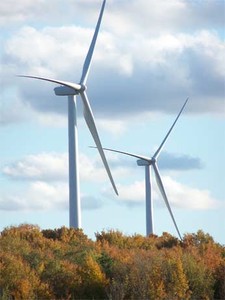 New England Wire Technologies -
Pioneering in Litz for H.F. magnetic windings
Litz wire conductors are beneficial for reducing A.C. losses in high frequency windings. The first consideration in any design regarding Litz wire is the operating frequency. The operating frequency not only influences the actual construction details of the copper magnet wire, but is also used to determine the individual strand size of the Litz wire construction. All Litz constructions will exhibit some skin effect due to the limitations of stranding. Higher frequency ranges require more strands of a finer gauge size than Litz wires of equal cross sectional area but composed of fewer and larger strands.
The enamels commonly used for insulating individual strands are Polyurethane and Polyurethane with a Nylon topcoat because of the low electrical losses and ease of solderability. Other insulations can also be used. In many cases, Litz is insulated with an overall single or double wrap or serving, of a textile, but are also available unserved.
If the applications dictate special requirements for voltage breakdown or environmental protection, special film coatings on each individual strand are available as well as double and triple insulations overall to meet the requirements of UL and IEC 60950 and 60601.
The benefits of using litz are:
Increased efficiency
Mitigation of skin and proximity effect
Minimum eddy current losses
Lowered operating temperatures
Reduced footprint of final product
Substantial weight reduction
Avoidance of "hot spots"
New England Wire Technologies is a privately held, employee stock ownership company with a rich history dating back to 1898. Our Lisbon, NH facilities consist of over 385,000 square feet of manufacturing, quality/testing, tooling/machine fabrication and office space. We are an ISO9001:2008 registered company with more than 350 employees operating three shifts, five days a week.
New England Wire Technologies in Lisbon, NH is the primary and largest corporation in the MJM Holdings Group manufacturing all of the wire and cable sold under the New England Wire Technologies name. Other subsidiaries include New England Catheter (Lisbon, NH), Bay Associates Wire Technologies (Fremont, CA and Santa Ana, Mexico).
Whether working with customer supplied specification or designing to a unique requirement, New England Wire Technologies' design teams develop innovative, one-of-a-kind wire and cable solutions. On-site manufacturing processes include wire drawing, plating, braid, cabling and extrusion services. And, since all of our proprietary equipment and tooling is designed and built in-house, we have complete control while also offering quick modifications when needed. Through true vertical integration of manufacturing processes our customers' design-to-market curve is the shortest in the industry.
Our custom Litz, braids, cables & strands, ultra flexible single, multiconductor & coaxial cables are manufactured to meet exacting specifications for the medical, automotive, communications, computer, industrial electronics, robotics, and high-energy physics industries.
Thanks to the expertise of our people and the true vertical integration of our manufacturing approach, we can ensure that your design-to-market curve is the shortest in the industry. We design and build most of our own equipment and tooling, so we can offer a level of manufacturing agility that yields custom wire and cable products of exceptionally high quality in remarkably fast time frames.
New England Wire Technologies serves the gamut of industries worldwide…medical, industrial, scientific, military/aerospace, alternative power, audio/video…anywhere quality custom cable is required to improve your product.
New England Wire Technologies specializes in custom cable design and manufacturing. We work with customers from design through production run to deliver cable that will meet your exact need. This Product Selection Guide is designed to give an overview of our capabilities and examples of common cable solutions. We hope you will use if for reference when discussing your unique requirements with our wire specialists. We are currently redesigning this guide, however have posted a .pdf file that is very large and may, depending on your internet speed, take a few minutes to load.
---