High end, specialty winding wire
Product Announcement from New England Wire Technologies Corporation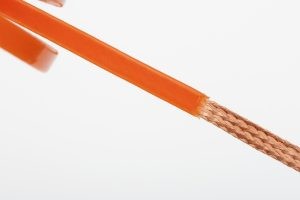 NEWind® Specialty Winding Wire
NEWind® is a high end, specialty winding wire that replaces traditional forms
New England Wire Technologies manufactures specialty winding custom wire and cable in single-end, stranded and Litz wire multi-conductor cable configurations. While magnet wire in the single-end or Litz wire form is the most common winding wire, its coating has been found to be susceptible to insulation loss between winding turns, separate windings and between the winding and the ground.
NEWind® Specialty Winding Wire solves this problem by insulating the conductors with thin layers of insulation. Cable insulation layers are extruded in either two layers (Supplementary) or three layers (Reinforced). This design ensures that defects in any one layer will not reduce the insulating ability. The result is motors and transformers that can be manufactured without additional insulation, thus reducing their cost and size.
Common usage/industries:
Power generation
Pumps
Motors
Domestic appliances
Transformers
Automotive
Relays
Solenoids
Electromagnets
Inductors
Control device
The following lists some of the more common options to assist with developing your cable.
Conductor Materials:
Bare Copper
Oxygen-Free Copper
Tinned Copper
Silver Plated Copper
Nickel Plated Copper
Magnet Wire
Wide variety of Alloy
Insulations:
PFA (Class H – 180° C)
FEP (Class H – 180° C)
ETFE (Class F – 155° C)
Insulation Colors:
Clear
White
Black
Red
Green
Yellow
Blue
Brown
Orange
Gray
Violet
Litz wire
Litz wire consists of a number of individually insulated magnet wires twisted or braided into a uniform pattern with the primary benefit of reducing AC losses in high frequency windings. New England Wire Technologies offers unlimited Litz wire constructions in all 8 type variations with multiple types of insulation to meet agency and/or specific customer voltage withstand requirements.
Litz Wire Types and Constructions
A description of the various styles of Litz wire – Type 1 through Type 8
Custom Litz Wire Options
We have extensive experience with Litz wire manufactured from custom materials and insulations.
Round Litz Wire
Litz Types 1 through 6 are all designed to be round and vary from a simple bunch of conductors to complex designs utilizing multiple cores and several manufacturing operations.
Wire and Cable 101
From FAQ's & specifications to relevant and timely industry specific articles and research. We are your resource for all custom wire and cable related content. Check back often for updated articles and Q&A's with our engineers and custom solution specialists.
Watch>> a short video which showcases our capabilities and the talented people behind everything we do.
About New England Wire Technologies
New England Wire Technologies is a privately held, employee stock ownership company with a rich history dating back to 1898. Our Lisbon, NH facilities consist of over 385,000 square feet of manufacturing, quality/testing, tooling/machine fabrication, and office space. We are an ISO9001:2015 registered company with more than 400 employees operating three shifts, five days a week.
New England Wire Technologies in Lisbon, NH is the primary and largest corporation in the MJM Holdings Group manufacturing all of the wire and cable sold under the New England Wire Technologies name. Other subsidiaries include New England Tubing Technologies (Lisbon, NH), Bay Associates Wire Technologies (Fremont, CA) and New England Interconnect Systems (Santa Ana, Mexico).
Whether working with customer supplied specifications or designing to a unique requirement, New England Wire Technologies' design teams develop innovative, one-of-a-kind wire and cable solutions. On-site manufacturing processes include wire drawing, plating, braiding, cabling, insulating, and extrusion services. And, since all of our proprietary equipment and tooling is designed and built in-house, we have complete control while also offering quick modifications when needed. Through true vertical integration of manufacturing processes our customers' design-to-market curve is the shortest in the industry.
---