Learn how Litz wire powers magnetic levitation
Featured Product from New England Wire Technologies Corporation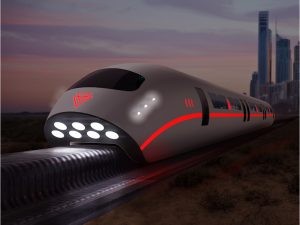 The Repulsive/Attractive World of Maglev
Learn how Litz wire powers magnetic levitation
An ancient Greek legend attributes the discovery of magnetism to a shepherd boy who stepped on a rock that attracted the nails in his shoes and the metal tip of his staff. He stumbled on a lodestone, a naturally magnetized piece of the mineral magnetite. Lodestones were sought after in ancient times for their mysterious properties. For instance, a lodestone suspended from a string orients itself to Earth's north and south magnetic poles, which made lodestones useful for primitive navigation. Today, magnets are used in endless applications ranging from toys and consumer products to medical, scientific and industrial equipment. But perhaps one of the most intriguing applications involves magnetic levitation, also known as maglev.
Maglev technology that has best captured the public's attention lies with trains and people movers, discussed below. However, maglev tech has many applications. Read about several of the most economically significant applications and of the role Litz wire plays in many of them.
New England Wire Technologies offers collaborative design and development, and concurrent engineering. Dream beyond today's technology! Acheive the impossible!
Wire and Cable 101
From FAQ's & specifications to relevant and timely industry specific articles and research. We are your resource for all custom wire and cable related content. Check back often for updated articles and Q&A's with our engineers and custom solution specialists.
Watch>> a short video which showcases our capabilities and the talented people behind everything we do.
About New England Wire Technologies
New England Wire Technologies is a privately held, employee stock ownership company with a rich history dating back to 1898. Our Lisbon, NH facilities consist of over 385,000 square feet of manufacturing, quality/testing, tooling/machine fabrication, and office space. We are an ISO9001:2015 registered company with more than 400 employees operating three shifts, five days a week.
New England Wire Technologies in Lisbon, NH is the primary and largest corporation in the MJM Holdings Group manufacturing all of the wire and cable sold under the New England Wire Technologies name. Other subsidiaries include New England Tubing Technologies (Lisbon, NH), Bay Associates Wire Technologies (Fremont, CA) and New England Interconnect Systems (Santa Ana, Mexico).
Whether working with customer supplied specifications or designing to a unique requirement, New England Wire Technologies' design teams develop innovative, one-of-a-kind wire and cable solutions. On-site manufacturing processes include wire drawing, plating, braiding, cabling, insulating, and extrusion services. And, since all of our proprietary equipment and tooling is designed and built in-house, we have complete control while also offering quick modifications when needed. Through true vertical integration of manufacturing processes our customers' design-to-market curve is the shortest in the industry.