High Pressure Backward-Curved Fan
Featured Product from New York Blower Company (The)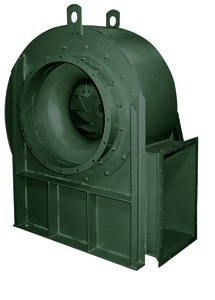 New York Blower High-Efficiency High Pressure Backward-Curved fans feature rugged, all-welded wheels designed for clean air applications but capable of handling light particulate-laden or moist airstreams. Air-handling efficiencies of the HP Backward-curved fans are higher than common radial fans and, therefore, offer lower noise levels. Some construction features include flanged inlet and outlet, heavy-duty spherical roller bearings, and a standard two-coat paint system.
DESIGN FEATURES
· CAPACITIES- to 170,000 CFM
· TEMPERATURES- to 750° F.
· PRESSURES- to 40"WG
· Wheel sizes 24" to 89" blade diameters.