Duct Fan
Featured Product from New York Blower Company (The)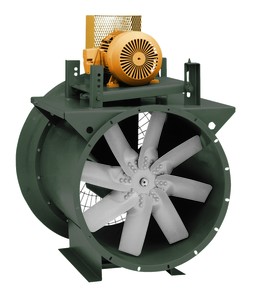 New York Blower Duct Fans are designed and constructed for low pressure ventilating and industrial exhaust applications requiring the compactness of an axial fan. In applications where equipment space is at a premium, the compact flow-through design of the Duct Fan can reduce system space requirements by more than 50% over conventional centrifugal fans. The straight, in-line design eliminates the need for costly, space-consuming transitions, elbows, and inlet boxes.
Nyb Duct Fans are licensed to bear the AMCA Seal.
DESIGN FEATURES
· CAPACITIES - to 125,000 CFM
· TEMPERATURES - to 1300° F.
· PRESSURES - to 13" WG
· TWO WHEEL DESIGNS - AcoustaFoil and PLR