AF Fans
Featured Product from New York Blower Company (The)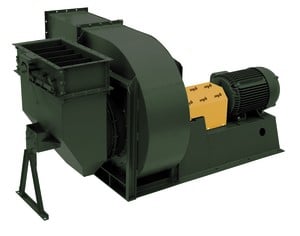 New York Blower AF Fans extend the pressure capabilities of backward inclined fan designs to the higher pressures found in heavy industrial-process applications such as boiler forced-draft, combustion air, solvent recovery and recirculating air.
The AF wheel design has been in production since the 1970s. It has proven itself to be the high-efficiency, high-capacity workhorse of the industry in over 3,000 industrial-process applications. The New York Blower Company has incorporated state-of-the-art finite element analysis modeling, laboratory testing, and the latest alloy techonology to the time-tested AF wheel to produce two new cost-effective wheels. There is also the option of a ST wheel for slightly contaminated gas streams and alternate performance.
DESIGN FEATURES
· PRESSURES TO 50" WG
· CAPACITIES TO 240,000 CFM
· 3 MODELS TO CHOOSE FROM:
- AF-30 Fans for applications to 30" WG; wheel diameter 24" to 66".
- AF-40 Fans for applications to 46" WG; wheel diameter 24" to 80".
- AF-50 Fans for applications to 50" WG; wheel diameter 24" to 66".