Custom Mechanical Draft Fans
Featured Product from New York Blower Company (The)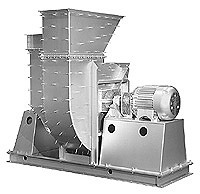 New York Blower's custom-engineered products are designed to exacting specifications. Designs meet specific flow, pressure, temperature, leak integrity, and configuration requirements. Specialty areas include:
Configurations - choices range from fan wheels mounted directly on motor shafts to independent pedestal configurations . . . to match mounting, space limitations, and application requirements.
High temperatures - employing alloys for strength and insulation, and cladding for heat retention and protection.
Corrosion/abrasion-resistance - alternatives include a wide variety of alloys such as Hastelloy®, Ferallium, Inconel®, Chrome Carbide, and Cor-ten.
Hastelloy is a registered trademark of Haynes International, Inc. Inconel is a registered trademark of Special Metals Corporation.
· Low leakage - options include purgeable mechanical seals, full-face gasketing, double welding, and factory pressure testing.
· Volatile gases - spark-resistant construction incorporating special materials, buffers, and design elements.
DESIGN FEATURES
· VOLUMES - to 220,000 CFM
· PRESSURES - to 128" WG
· TEMPERATURES - to 1300° F.
· High Efficiency Fans (Backwardly Inclined Wheels)
· API & PIP Specifications
For product information, specs, and to download a product brochure, click here.