Double Width Fans
Product Announcement from New York Blower Company (The)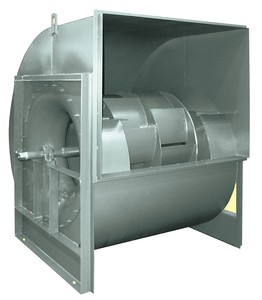 New York Blower Double-Width AcoustaFoil Fans can be operated efficiently at less than maximum design airflow. The high efficiency and inherent stability of nyb's AcoustaFoil wheel is particularly well-suited to variable airflow systems. The AcoustaFoil wheel design ensures not only maximum operating efficiency at design CFM but also at reduced airflow regardless of the control method applied. This higher efficiency allows quieter operation throughout the modulation range. These fans are available with both parallel-blade and opposed-blade outlet dampers or internal inlet-vane dampers, and are suited to speed modulation using variable frequency motor speed controllers.
Complete AMCA Class I, II, and III performance.
The NYB Double-Width Fans are licensed to bear the AMCA Seal.
DESIGN FEATURES
· CAPACITIES - to 350,000 CFM
· PRESSURES - to 14" WG
· TEMPERATURES - to 120° F.
· Efficiencies beyond 85%
· 20 Sizes - 10"- 73"
---