Industrial Duct Fans
Featured Product from New York Blower Company (The)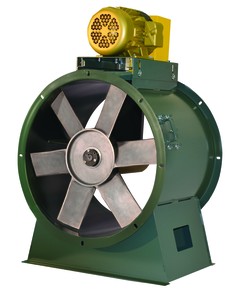 The New York Blower Company is excited to announce the Industrial Duct Fan. This completely new belt driven product line is designed with short, compact housing to accommodate tight installation requirements and includes an aerodynamic belt-well for high efficiency operation.
To increase selection flexibility, the Industrial Duct Fan utilizes (3) wheel designs. This includes a one piece cast aluminum (OPC), a multiple piece cast aluminum (MPC) and a steel fabricated (STF) wheel design [as well as an "optional" steel fabricated design (STO) for sizes 36-42]. All wheels are located on the discharge side of the fan which pulls clean, ambient air through the belt-well/inner bearing tube allowing for operation in high moisture environments with gastream temperatures to 375? F
To assist with maintenance, all Industrial Duct Fans include extended lubrication lines and an inspection door as standard. This allows the end user to maintain the fan bearings and inspect the fan wheel without having to remove ductwork.
Design Features:
Volume - to 42,000 CFM (71,360 m3

/hr)

Pressures - 2 1/2 WG (622 Pa)
Temperatures - 375°F (with heat-fan construction)

(190°C)

10 belt-drive sizes - 12"- 48" (305mm-1,219mm)

Arrangements - 9M, 9V, 9S, 9D
For product information, specs, and to download a product brochure, click here.