Pressure Blowers
Featured Product from New York Blower Company (The)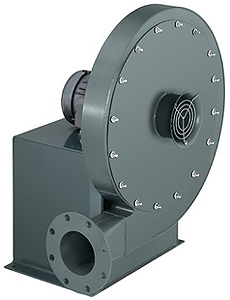 AMCA Approved: Pressure blowers are licensed to bear the AMCA Air Performance Seal.
NEW: The New York Blower is proud to announce an addition of Arrangement 9 Pressure Blowers to their current product line. Please speak to your local representative for more information.
Pressure Blowers come in several design options to meet your systems needs. The choice of aluminum or steel wheels, variable wheel diameters, six outlet sizes, choice of arrangement, and availability in direct-drive and belt-drive all for flexibility in meeting your system's requirements.
DESIGN FEATURES:
Volume - 80,000 CFM (135,920 m3/hr)
Pressures - to 128" WG (31,880 Pa)
Temperatures - to 600

°F (315°C)
· WHEEL CHOICES:
· ALUMINUM
· STEEL
· STAINLESS STEEL
· 13 SIZES - 14" through 26"
Download our product catalog here