STEELfin Coils
Featured Product from New York Blower Company (The)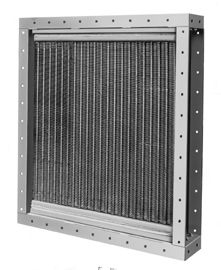 New York Blower Steam Unit Heaters are designed for continuous operation in the industrial environment with hot-dip galvanized STEELfin heating cores for long service life. The heaters are direct drive for minimum maintenance, and include a choice of two heating surfaces.
The STEELfin heating surface was originally designed with the industrial application in mind. The all-steel core is comparable to the steam piping in resilience and resistance to strains caused by temperature expansion and contraction (a common cause of failure with nonferrous steam coils). The vertical tube configuration allows for positive condensate drainage and the corrosion-resistant features ensure durability. Wide-fin spacing and the rigidity of steel fins provide for simple cleaning methods. This primary design has stood the test of time for more than 50 years and has become the standard for space heating in some of the nation's largest manufacturing facilities.
STEELfin coils are available in two fin types. Type A is a corrugated-fin surface which provides maximum heating capabilities by causing a mixing airflow effect in the fin/tube channels. Type B is a flat-fin surface and is recommended for high-pressure steam applications where a moderate temperature is more desirable.
DESIGN FEATURES
· STEAM PRESSURES - to 200 psi
· STEAM TEMPERATURES - to 600° F.
· HEATING CAPACITY - to 613,000 Btu./hr.
· LEAVING AIR TEMPERATURES - to 215° F.
· FACE VELOCITIES - to 1,200 ft./min
· 25 STANDARD SIZES
· TWO FIN SURFACES -smooth or corrugated