Square Fan
Product Announcement from New York Blower Company (The)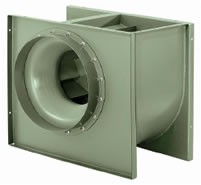 Square fans come in three backward inclined wheel designs: airfoil, curved blade, and single thickness. They are ideally suited for a wide range of clean-air applications requiring a tight footprint. Typical uses include pneumatic conveying, product drying, product cooling, supply air, and exhaust on the clean-air side of dust collection systems.
AMCA Certified.
DESIGN FEATURES
· CAPACITIES TO 29,000 CFM
· PRESSURES TO 22" WG
· TEMPERATURES TO 180º F.
---