Tubeaxial Fans (FRP Axial)
Product Announcement from New York Blower Company (The)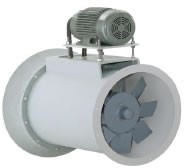 New York Blower Tubeaxial Fans are designed for moderate-pressure ventilation and industrial-process applications where axial flow is desirable and space is at a premium. Uses include heat, smoke and fume removal, process-drying with ambient or preheated air, comfort and process cooling and general ventilation.
AMCA Certified.
DESIGN FEATURES
· CAPACITIES - to 86,000 CFM
· TEMPERATURES - to 200°F
· PRESSURES - to 3" WG
· THIRTEEN SIZES - 12"- 60"
· FRP WEATHER COVER
---