Vaneaxial Adjustable Pitch Fans
Featured Product from New York Blower Company (The)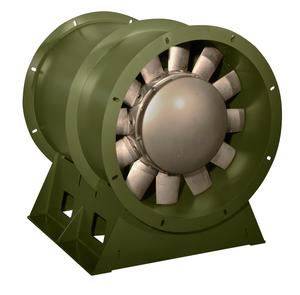 The Vaneaxial Adjustable Pitch Fans are designed and constructed for high-pressure applications found in heavy industrial-process applications such as air-assisted flares, combustion air, process supply and exhaust. Adjustable pitch design conveniently allows for performance adjustments when fan is at rest without the need for adjustable speed controllers or V-Belt drive systems. .
Design Features:
Volume - 120,000 CFM (203,000 m3/hr)

Pressures - to 20" WG (4,980 Pa)

Temperatures - to 120

°F (50°C)

11 Direct-Drive Sizes 21" - 60" (533mm - 1,524mm)

Arrangements - 4M, 4D
For product information, specs, and to download a product brochure, click here.