Vaneaxial Fixed Pitch Swingout
Featured Product from New York Blower Company (The)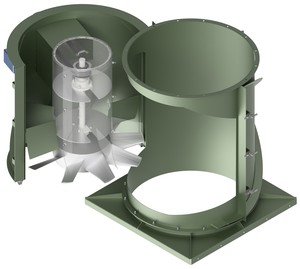 The New York Blower Company is proud to announce the availability of a "Swingout Door" for the Vaneaxial Fixed Pitch fan. Available on the belt drive units, this feature allows for easy access to the shaft, bearings and v-belt drive. In addition, the wheel can be easily removed without the need to remove the fan from the ducted system. The Swingout design is available on VXFP sizes 24-54.
The Vaneaxial Fixed Pitch Swingout Fans are designed to give uninterrupted access to the internal components of the fan. The whole motor and inner tube assembly swing out with the door, allowing easy access to the shaft and bearing
Volume - to 90,000 CFM (152,000 m3/hr)
Pressure- to 7" WG (1,742 Pa)
Temperatures - to 200°F (93°C)
9 Belt-Drive Sizes - 24" -54" (457mm-1,524mm)
Arrangements- 9V, 9R
For product information, specs, and to download a product brochure, click here.