ASC Low-Profile Capacitors for PCB Board Mounting
Featured Product from New Yorker Electronics Co., Inc.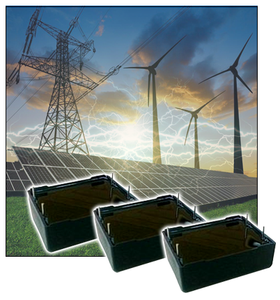 New Yorker Electronics is distributing the ASC Capacitors MEC-DL Low Profile DC Filter/Link Capacitor line of Film Capacitors. Designed primarily for PCB board mounting, these Low-Profile Capacitors are ideal for frequency converters, micro inverters and DC filtering applications. The most common application is the inverter solar market, but they excel in other inverter applications where a low profile is required.
The lead spacing and compact size are conducive for low inductance (<1nH per mm of lead spacing), and they're available with single or dual leads. The low-profile version offers a capacitance range of 13uF to 66uF, has a ±10% tolerance and comes in 450VDC and 850VDC. The terminals are tin-plated copper wire and mounted in PCB through hole.
ASC Capacitors MEC-DL Low-Profile DC Film Capacitors are custom ordered only. American Shizuki Capacitors specializes in creating made-to-order solutions for unique applications. Custom sizing on all lines is always an option.
New Yorker Electronics now maintains the full MEC-DL line, with the standard low-ESR MEC-DL Capacitor series, the high-frequency MEC-DL Onboard Type Film Capacitor series, the MEC-DL Metalized Polypropylene High Humidity Resistant Film Capacitors and the Low-Profile DC Film series.
The standard MEC-DL Series is also available with a single lead or dual. Noted for its low ESR and dry construction, the series has a capacitance range of 10uF to 100uF and voltages of 450VDC, 850VDC and 950VDC. They are housed in a PBT case with epoxy fill and metallized polypropylene. These can be used in arrays for bulk capacitance when needed for placement around high frequency circuits. The film is also segmented to minimize capacitance loss.
ASC Capacitors MEC-DL Onboard Type Film Capacitors are high-frequency, high-stability, large current capacitors designed for DC links, connecting rectifiers and inverters. They have tolerance options of either ±5% or ±10% and a VDC of either 450 or 850.
ASC's MEC-DL Metalized Polypropylene High Humidity Resistant Film Capacitors for DC Link are similarly high-frequency and high-stability and are used in DC Linking and Filtering and inverter circuits for appliances. But with their high tolerance for high humidity, they are also used for industrial power supplies, wind power generation and solar inverters. They also feature self-healing and fuse action for higher safety at end of life.
Features & Benefits:
• Low ESR
• Dry construction
• Segmented Film for safety
• Designed for PCB
• Low ESL
• Can be used in arrays for bulk capacitance
Applications:
• DC Filtering
• Frequency Converters
• Solar Inverters
• Micro Inverters
New Yorker Electronics is a franchise distributor of ASC Capacitor and carries the entire line of ASC's DC Filters, AC Filters, Snubbers, Traditional Film Capacitors and Metallized Propylene-Protected Dry Caps for HID Lighting.
New Yorker Electronics is a certified authorized distributor of electronic components, well known for its full product lines, large inventories and competitive pricing since 1948. New Yorker Electronics is an AS9120B and ISO 9001:2015 certified source of capacitors, resistors, semi-conductors, connectors, filters, inductors and more, and operates entirely at heightened military and aerospace performance levels. It also functions in strict accordance with AS5553 and AS6496 standards — verifying that it has implemented industry standards into everyday practices to thwart the proliferation of counterfeit parts. It is a member of ECIA (Electronics Component Industry Association) and of ERAI (Electronic Resellers Association International).