Cornell Dubilier Type Q Defibrillator Capacitors
Featured Product from New Yorker Electronics Co., Inc.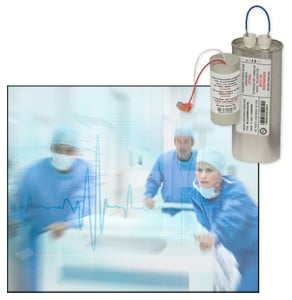 New Yorker Electronics has announced the release of the new Cornell Dubilier Electronics, Inc. (CDE) Q Series film capacitors for medical defibrillator applications. Designed specifically for today's quick response and professional use defibrillators, the Q Series meets the reliability demands of Class III medical devices. Used extensively in automated external defibrillators (AEDs), the series offers designers the highest in-class energy density and broadest range of packaging options.
The Q Series capacitors available from New Yorker Electronics are designed for use in monophasic and bi-phasic defibrillators with energy densities as high as 2 J/cc. Some designs can deliver in excess of 500 joules when fully charged. Voltage ratings range from 800Vdc to 6,000Vdc with capacitance values covering the range from 32 to 500μF.
Standard packages include oil-filled metal cases or epoxy-filled plastic cases, both available in either round or oval configurations. A multitude of terminations are available ranging from quick-connect blades to insulated wire leads. The company also has the capability of integrating capacitor windings into a custom molded package to achieve the smallest possible profile and highest energy density for the end-device.
Over the past 20 years CDE's engineers have advanced the metallized film capacitor technology, processing and testing to help its customers achieve the smallest and most reliable designs. With the capability of withstanding 40,000 charge/discharge cycles (depending on part and application), Q Series capacitors are designed for long-term reliable service where it matters the most.
New Yorker Electronics is a certified franchised distributor of electronic components, well known for its full product lines, large inventories and competitive pricing since 1948. It is an AS9120B and ISO 9001:2015 certified source of passive components, discrete semiconductors, electromechanical devices, Flash & DRAM modules, embedded board solutions, power supplies and connectors, and operates exclusively at heightened military and aerospace performance levels. New Yorker Electronics operates in strict accordance with AS5553 and AS6496 standards in its everyday procedures to thwart the proliferation of counterfeit parts. It is a member of ECIA (Electronics Component Industry Association) and of ERAI (Electronic Resellers Association International).