Expanded Chip Line Offers Voltage Ratings to 35VDC
Featured Product from New Yorker Electronics Co., Inc.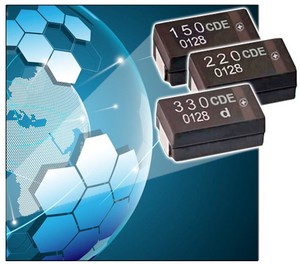 NORTHVALE, New Jersey, USA – Cornell Dubilier's XMPL Polymer Chip Capacitor series from New Yorker Electronics has been expanded to accommodate higher voltage and capacitance requirements. Cornell Dubilier's XMPL polymer chip capacitor series has been expanded to match applications with higher voltage and capacitance requirements. Their capacitance and voltage stability ratings with temperature and frequency make these conductive polymer capacitors ideal for applications where bulk storage and high ripple current filtering are needed.
Possessing much lower ESR and a shorter height profile than SMT aluminum electrolytics, XMPLs offer designers the opportunity to reduce the size and cost of their high-frequency/high-ripple applications by using fewer components.
Standard capacitance values now range from 6.8μF to 470μF, with a maximum working voltage of 35VDC in a molded package measuring 7.3x4.3x1.9 mm. The operating temperature is -55°C to 105°C with a load life of 2,000 hours at 105°C with rated voltage applied. XMPLs are also halogen-free and RoHS-compliant.
Applications include high-frequency compact power supplies, DC to DC converters, LED lighting, industrial instrumentation and automation.
Features & Benefits:
Small Size
Low Impedance
Halogen Free Epoxy
RoHS Compliant
Stable with Temperature, Applied Voltage, and Frequency
Applications:
DC/DC Converters
LED lighting
High-Frequency SMPS
SSDs
DC Output Filtering
Decoupling
Computer Peripherals
High Ripple Current Applications
Noise Suppression
As a franchise distributor for Cornell Dubilier, New Yorker Electronics supplies the full line of Aluminum Electrolytic Capacitors, AC Oil Filled Capacitors, DC Oil Filled Capacitors, Film Capacitors, MICA Capacitors, Ultracapacitors and Supercapacitors.
About New Yorker Electronics
Headquartered in Northvale, NJ, New Yorker Electronics, Co., Inc. (www.newyorkerelectronics.com) is a global franchised distributor of electronic components, value-added services, and supply chain solutions to the world's leading OEMs and contract manufacturers in various markets. Founded in 1948, the AS9120B and ISO 9001:2015 certified company has earned a reputation for delivering superior levels of reliability and customer support while providing direct franchise access to an extensive ready-to-ship inventory of passive, inter-connect, electromechanical and Mil-Spec components, as well as semiconductor devices.