MEGA Electronics signs New Yorker as Distributor
Featured Product from New Yorker Electronics Co., Inc.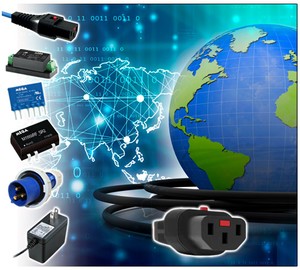 New Yorker Electronics has announced a new franchise distribution agreement with New Jersey-based MEGA Electronics, a manufacturer of power cords, power supplies and DC/DC converters. Established in 1994, MEGA Electronics is a preferred supplier for commercial and industrial use cords and converters.
In 2006, MEGA launched its AC/DC and DC/DC power supply line. At its ISO 9001 certified production facilities in the Philippines and in Guangdong, China, MEGA manufactures wall mount, desktop, DIN rail and open frame power supplies. In 2007, MEGA Electronics expanded its Data Cable and Wire Harness division, vastly expanding its cord and cable production.
According to New Yorker Electronics Vice President, Barry Slivka, "The combination of MEGA Electronics' Asian manufacturing and the UL listed New Jersey facility for assembly of cord sets and wire harnesses means our customers will benefit from the fastest possible service at reasonable prices." He added, "It is a one-stop source for New Yorker customers."
"Bringing on New Yorker Electronics will greatly expand MEGA's ability to service our mutual customers by providing local stock and service from a company with national reach and a long history of superior service," said Guy Francfort, Vice President at MEGA Electronics. "We are excited to be entering into the agreement and look forward to a long and beautiful relationship."
MEGA facilities perform all aspects of production, from extrusion to molding of couplers, all in house. Overseas production facilities are where 8mm copper rods are drawn down to sizes as small as 0.05mm. All MEGA external supplies meet Energy Efficiency Level VI, except exempted medical models which are listed to UL 60601-1 and the current required edition in addition to 2x MOPP. Products are UL recognized, CE approved and all are ROHS compliant.
Custom manufacturing and engineering to your specifications is available through New Yorker Electronics. As a franchise distributor for MEGA Electronics, New Yorker Electronics supplies MEGA Electronics' full line of Power Cords and Cord Sets, Power Supplies, DC-DC & AC-DC Converters, IEC Lock Products and EN60309 Plugs and Connectors.
Headquartered in Northvale, NJ, New Yorker Electronics, Co., Inc. (www.newyorkerelectronics.com) is a global franchised distributor of electronic components, value-added services, and supply chain solutions to the world's leading OEMs and contract manufacturers in various markets. Founded in 1948, the AS9120B and ISO 9001:2015 certified company has earned a reputation for delivering superior levels of reliability and customer support while providing direct franchise access to an extensive ready-to-ship inventory of passive, inter-connect, electromechanical and Mil-Spec components, as well as semiconductor devices.